Flower & Produce Show - Saturday 10th August 2019
2pm - 5pm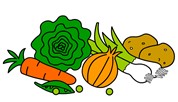 Our annual Flower and Produce Show is an opportunity for everyone in the village to show off their skills in the garden, the kitchen or the art studio. Bring your marrows, your roses, your scrumptious cakes and your artwork, and see how many prizes you can win.
The show schedule will be distributed around the village before the show, and has full details of all the classes that you can enter - classes are open to Braunston residents and non-residents alike. Or you can contact Sue on 01572 756694 and she will drop a schedule around to you.
Bring your entries along to the hall from 7pm-8pm on Friday evening or from 9am-10am on Saturday morning; the hall is then closed from 11am until 2pm while the judges make their decisions, and then you can view all the exhibits and see who has achieved the glory of first place in each of the categories. The hidden talents of local people never fail to impress, whether it's art, children's crafts, glorious sweet peas, perfect french beans or cakes that would impress even Mary Berry.
There will be a fete in the garden with traditional games for all the family, plus a raffle, tombola, second-hand book stall and a chance to buy plants at the Gardening Club stall. Refreshments will be available in the hall with tea and coffee, and a selection of home-made cakes from Braunston's best bakers.